Feldenkrais
Feldenkrais is  body awareness and movement training and lessons that help improve body movement and functioning, reduce pain and promote general well-being. Roxanne is a Guild-Certified Feldenkrais Practitioner (GCFP), you can read her bio here.   Learn more about the Feldenkrais Method, Functional Integration and Awareness Through Movement Classes and Workshops.  You can email Roxanne to see how Feldenkrais could benefit you or book an appointment online now or by calling 250 298 4484.
Feldenkrais is a Method developed by Moshe Feldenkrais to teach people how to move and use their bodies more intelligently. There are two aspects of the Feldenkrais Method® "Awareness Through Movement" (ATM ) and Functional Integration (FI).
"It's not the weight of the load that breaks you, it's the way you carry it."  
~Lena Horne
ViVi Therapy offers classes and workshops in the Feldenkrais Method called Awareness Through Movement.  We also offer continuing education for RMTs and other hands on practitioners in our series of Feldenkrais Fundamentals workshops. Individual Functional Integration private movement lessons can be given in a one-on-one setting. Private Feldenkrais lessons can lead you to a place where you become aware of inefficient movement habits.  Once you develop this awareness you then have the option to change what you are doing.  With the guidance of a skilled Feldenkrais teacher individuals can replace old habits with newer more efficient skeletal based motion.  Feldenkrais movement education can really improve how people feel, move and age.  It is possible to change your body image based on higher functioning and improve self esteem as a result.  Wrinkles and crankiness is not what ages us as much as our habits.  Trying new things and developing new ways of moving helps break the cycle of habits that age us.
When regular daily movement patterns are inefficient and strained, increased muscular tension and joint compression or stiffness begin to be the norm.  Often people find they are living with daily physical discomfort and even chronic pain.  As individuals we lack the "know how" to change the movement that contributes to the problem.  Over time, arthritis, osteoporosis, disc degeneration and need for joint replacements are the result and considered common in our aging population.  The higher the demands on the body for repetitive daily movement or inactivity the higher the need for a finer tuned body.  The Feldenkrais Method delivers the fine tuning.  Improving how you move and in particular how you walk has been proven to improve neurological dysfunction as well as chronic disease and pain in an aging population. 
Read Norman Doidge's 2nd best seller book on Neuroplasticity called "The Brains Way of Healing"
Our infogram here expalins the health benefits of the Feldenkrais Method: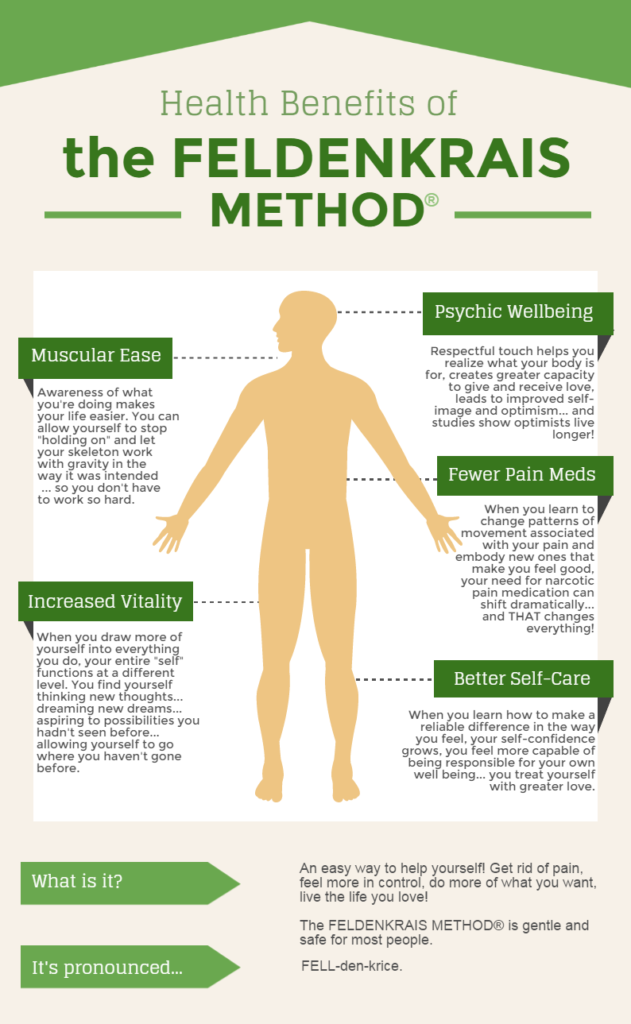 The Feldenkrais Method is a highly regulated profession and a Guild Certified Feldenkrais Practitioner studies 800 hours over a 4 year period to become a hands on movement educator.  Once we know how we are doing something, only then we have the power to change it.  The Feldenkrais Method should be considered as a resource for learning how to improve one's ease, grace and pleasure from movement and body intelligence in general.  This method of educating people to more conscious movement has been proven to benefit many people with neurological disease and dysfunction as well as chronic pain and a desire to perform better at work, play or sport.
Save
Save
Save
Save