Kirsten Trant RMT
Kirsten is a caring and compassionate therapist.   Her areas of therapeutic strength are muscle testing and assessment of sports injuries, deep tissue work, functional integration and working with musculoskeletal conditions found in all age groups. She is also very knowledgeable in anatomy and physiology. 
Early in life Kirsten realized a career in healthcare was what she would excel at.  Coming from a family with a background in Medicine and Engineering she found the combination of academics, science and the hands on skills of Registered Massage training suited her very well.
Trant graduated from the West Coast College of Massage Therapy, Victoria  in December 2012.  Since graduation Kirsten has provided Massage Therapy for the elderly, athletes, professionals and clients with rehabilitation needs.   Kirsten has excellent assessment skills and can focus on getting results for your muscular and skeletal symptoms.
Kirsten is an enthusiast for massage events and the public. Contact her for any of your mobile therapy needs such as events and mobile visits for those individuals unable to visit our massage therapy clinic in Victoria.  Kirsten also offers workplace, wellness and rehabilitation focused therapy from Sidney to Langford if planned in advance.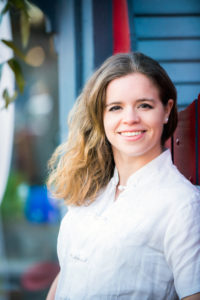 Kirsten enjoys the great outdoors and loves to swim in our many beautiful lakes and take hikes with her two dogs. She also has a keen interest in martial arts and cooking natural and healthy foods. 
This Testimonial is from one of Kirsten's massage therapy clients:
"I experienced Kirsten to be a very knowledgeable, professional and passionate RMT. She was personal, thoughtful in her approach and focused on my specific problem areas. I left feeling more balanced and relaxed . Thank you Vivi Therapy for providing another highly skilled and intuitive practitioner."
 Laura L – Victoria BC
Kirsten is now welcoming new patients in our Massage Therapy Clinic in Oak Bay on Tuesdays and Saturdays.  Book a Registered Massage Therapy session with Kirsten online now.
Read one of Kirstens' interesting and informative blog posts now
Save
Save
Save