Registered Acupuncture & Traditional Chinese Medicine
Acupuncture is an aspect of oriental medicine. It treats patients by inserting specialized needles into specific locations on a body. A Registered Acupuncturist carefully assesses the patient to determine how and where the needles place during treatment. This controls pain, prevents disease, and balances and enhances the body's Qi—pronounced "chee"—which is the basis of an acupuncture treatment.
Qi flows around the body through channels called meridians. 12 regular meridians corresponds to six yin and six yang organs—the spleen meridian to the spleen organ, the large intestine meridian to the large intestine organ, and so on. Acupuncture treatments also use eight extra meridians.
Traditional Chinese Medicine (TCM) believes acupuncture helps Qi flow smoothly through the meridians. This effects changes in the internal organs and musculoskeletal system towards an overall quality of health.
Our style of acupuncture has long standing roots in China and requires time to do its work. We believe that applying heat and muscular massage to the tissues prepares and enhances the effectiveness of the needle. We think massage therapy and acupuncture are a great fit for this reason. Book an appointment today and experience the benefits of your balanced Qi.
How does acupuncture work?
Disharmony in an organ often shows up in its corresponding meridian. Practitioners can palpate a point on the corresponding meridian to assess the health of its related organ and sometimes the meridians themselves are treated.
For example, a practitioner might treat a sore shoulder by increasing the flow of Qi and blood through the large intestine, lung, and triple burner meridians. The organs related to these meridians may be completely healthy but these meridians are selected because they pass through the area of the injured shoulder. Although they flow deep within the body, each meridian has specific points that can be accessed from the surface of the body.
What do Registered Acupuncturists use?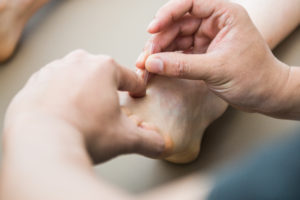 In ancient times, needles were made from stone, wood, ivory, or bone. Modern practitioners use surgical-quality stainless steel needles—some needles can be plated with silver, gold, or copper to achieve special effects from the treatment, such as tonification or sedation. Needles are used only once and then discarded. Needling helps stimulate acupuncture points as well as using pressure or heat. Each acupuncture point has a specific set of functions and some functions are local, while some are systemic.
One of the most important points in acupuncture is Zusanli. It is used to treat stomach pain, vomiting, indigestion, diarrhea, constipation, dizziness, fatigue, and low immunity. Needle insertion often relieves stomach pain immediately. Modern research confirms that applying needles to this point actually raises the white blood cell count. Research in China and Japan with electrical conductivity has confirmed the tangible existence of the acupuncture points and double-blind studies have shown acupuncture is safe and effective in treating a wide range of diseases. In some Chinese hospitals, acupuncture substitutes for anesthesia.
The World Health Organization recognizes the effectiveness of acupuncture treatments, namely ailments like neurological disorders and gastrointestinal disorders.
Save
Save
Save
Save
Save