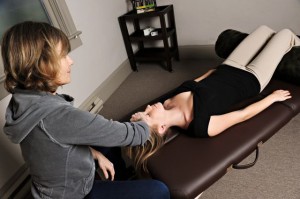 Private Feldenkrais Movement Lessons or Functional Integration Lessons, is a specific one-on-one session between a student of the Feldenkrais Method and the teacher/practitioner. Here a low lying table, a stool or mat on the floor is used for the lesson. With additional help from props and padding the clothed student learns movements over a one hour session that is specific to their particular request. For example, if a person wants to learn more about why they have tension in their neck, arms and mid back when they work at the computer, or a martial art or yoga student wants to understand and increase their awareness about how to improve a certain posture or move in their practice. 
The possibilities are endless and used for rehabilitation from injury and surgery and neurological problems with great success.
If you want more performance out of your body then the Feldenkrais Method is for you.  Changing your movement habits and patterns can have a huge impact  on how you carry and support your body weight, hold your body and maintain posture and even improves how you will age!
Roxanne Derkson trained as a Guild Certified Feldenkrais Practitioner in Montreal from 1992- 1996. 
Book a Private Feldenkrais Functional Integration lessons with Roxanne online or call us on 250-298-4484. You can improve how you move your body during work, sport or recreation. You can even improve how you sleep!
Lessons can be paid for online or at the clinic/store.

 Yvan Joly, Feldenkrais Trainer Montreal Canada