Learn Chinese Cupping
Chinese Cupping is an ancient Chinese method of causing local congestion or increased circulation which helps improve health and wellness. A partial vacuum is created in cups placed on the skin either by means of heat or suction. This draws up the underlying skin, epidermis and connective tissues. When the cup is left in place for a few minutes, blood stasis is formed providing increased oxygen to tissues and localized healing takes place. Cupping therapy opens the 'Meridians' of the body. Meridians are the pathways through which energy flows.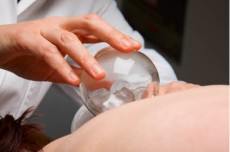 Energy flows through these meridians to every part of the body including through every organ and tissue. There is access to these meridians from the back.  Cupping creates a meridian portal and allows invigorating energy to travel through the body. It has been found that cupping is one of the best ways of opening meridians. Cupping has also been found to affect the body up to four inches into the tissues.  This systemic reach can help tissues to release toxins, activate the lymphatic system, clear colon blockages and increase circulation to the skin and blood vessels. Cupping provides a unique way to massage tissue deeply. Cupping as a modality is very useful and very safe and can be easily learned and incorporated into your holistic health practices.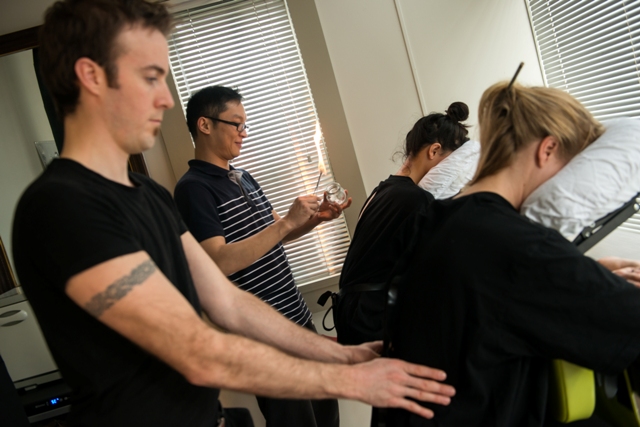 Our Chinese Cupping Workshop is a practical course on cupping.  Participants will develop manual skills and cup handling. They will learn safe applications, benefits and contraindications for Chinese cupping technique.
It has been developed to introduce and educate health care practitioners and individuals on the benefits of working with Chinese meridians and using static and slide cupping for health benefits.This program combines lecture, demonstrations, practice time and Q & A.  This comprehensive workshop is designed for people with some bodywork experience (please email us if you would like to attend and are wondering if you will be comfortable with the course content) and health practitioners interested in Traditional Chinese Medicine and Cupping Massage.
The workshop consists of 6 contact hours with hands on practice in pairs and a one hour lunch break. it will be held at our clinic location, ViVi Therapy. 1976 Oak Bay Avenue, Victoria.
Tuition includes a cupping kit which participants can take home.

Be sure to register early as space is limited to enable higher quality learning. 

Register by purchasing the workshop in our online store here.
Save
Save
Save
Save
Save
Save
Save
Save
Save
Save
Save
Save
Save
Save
Save
Save
Save
Save
Save
Save
Save