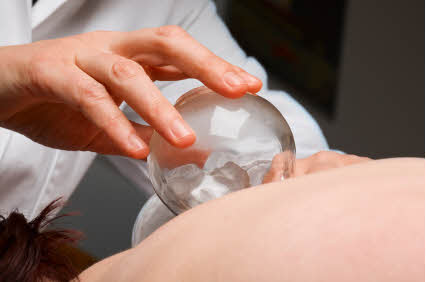 Massage or Cupping?
Massage or Cupping what is the difference?
Compression or decompression that is a growing question?
Right now Cupping is the biggest trend in bodywork. Traditionally, cupping has been a staple modality in Traditional Chinese Medicine (TCM) often combined with acupuncture. Cupping has now hit the mainstream since Michael Phelps sported his cupping induced bruising at the London Olympics. The west has gone from curiosity and horror related to the consistent bruise marks associated with this therapy, to readily accepting this as a sideline symptom of treatment and lining up to try it!
I have worked as a Registered Massage Therapist for 30 years. During this time bodywork in Canada has grown in popularity and sophistication. The manual therapy skills of people performing all sorts of styles of manual massage and soft tissue manipulation is mind boggling.  As a massage and acupuncture clinic, ViVi Therapy receives so many more requests for cupping therapy now as a stand alone session than ever before. We were delighted when a grandmother was calling to book in her massage savvy grandchildren for their first cupping sessions. Our clinic is fortunate to have a highly skilled and sensitive cupping professional Dong Wei Li.
Trends come and go and massage aficionados can have robust conversations about how they have had their musculoskeletal systems pressed, pulled and pummeled in many different ways.
The western world is obsessed with Asian culture and vice versa. Cupping is on our radar both as a clinic offering Cupping Therapy and selling DIY Cupping supplies.
Our massage supply store sells cupping sets for body, face and therapeutic applications. Our latest brand The Cupping Body offers a unique line of cupping supplies and accessories. Click here to see our offerings.
How does cupping work?
By way of a vacuum effect the inside of the cup of choice sucks the tissue under it up into the cup and while doing so increases circulation and qi (chi) to soft tissue or acupuncture points below.  The vascular dilating effect creates bruising in the shape of the cups surface. 
Researching ancient bodywork discovers cupping was applied centuries ago using primitive cupping tools like hollowed out bamboo or clay vessels. Today the traditional cupping style uses the glass cupping jars and fire to create suction.
Less traditional and highly adapted to modern massage and physical therapy practices are the vacuum pump style cupping sets where each cup is individually pumped to desired suction level or myofascial decompression tolerance.  
Silicone cups are the latest tool on the scene which is revolutionizing the cupping techniques and giving people interested in self-healing the tools to practice at home on themselves or on family and friends. See Don Wei Li's Learn Cupping and Acupressure workshop details here and learn ancient healing techniques to apply right away to everyday conditions of muscle tension, headaches and respiratory conditions to name a few.
What is cupping therapy and myofascial decompression?
The western-coined term for cupping is Myofascial Decompression. The distinct difference between deep tissue or Swedish massage techniques and cupping, is cupping pulls the myo (muscle) and fascia (band or sheath of connective tissue surrounding muscle tendons, ligaments and organs) away from the bone.
Similar to cupping, most Registered Massage Therapists bare a few "skin rolling" techniques. The muscle and fascia compresses and stretches towards or against its bony attachments and underlying structures. Skin rolling can be intense, because it releases stuck fascia by picking up the skin and epidermis (tissue below the skin) by pulling it away from the body and rolling it between the fingers.
From my point of view, sliding glass or silicone cups—applying oil and using any cupping style to decompress/pull and glide the cup along a muscle or muscle group—does the same thing, if not better, than skin rolling with less discomfort.
What can cupping and decompression treat?
Cupping can treat the same areas as massage therapy, with the exception of a limitation to muscular areas of the body. Glass cups do not maintain their suction if they glide over bony prominence's. New cups are made with silicone for versatility and gliding.
TCM uses cupping for deep seated or stagnant Qi in acupuncture points that need a boost, including chronic pain conditions that are unresponsive to other treatments. They treat conditions like respiratory and lung conditions, that have phlegm and congestion (a cause of coughing and breathing problems). Cupping therapy takes over a previously adapted technique specifically used by physiotherapists and the like—a small plunger. It was used to decompress the iliotibial band area which was difficult and painful to release with normal massage techniques.
The iliotibial band being a very long flat and thin muscle in the outside of the leg. This muscle is notorious for causing pain in the upper thigh portion or at the knee attachment. Runners commonly complain of tension related discomfort in this muscle from over use.  
Eastern use of cupping therapy was often combined with acupuncture or acupressure to enhance its efficacy.  Using the same principles of meridian based therapy such as increasing stagnant Qi flow or inhibiting over stimulated chi thru acupuncture points the static cupping (not moving) or slide cupping (moving like massage) or flash cupping (used to increase lymphatic drainage such as facial edema) for the delicate eye and neck areas.
Check out how even the applied motions to slide cupping when applied with an eastern technique is done with the heaven and earth or upward and downward flow of energy through the body in a qi gong or tai chi  style of healing. There is a lot more to cupping than meets the eye.  
Watch ViVi Therapy's education Cupping video here.