Feldenkrais Fundamentals  For Functional Focused Treatments (Based on the work of Dr. Moshe Feldenkrais)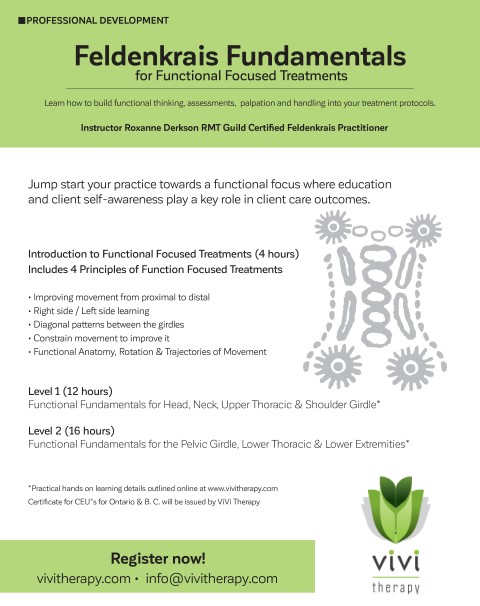 Next Workshop:
Hours of Each weekend are as follows: Saturday 8:30 AM to 5:30 PM and Sunday 9 AM to 4:00 PM
Summer 2018
Level 1
July 21 and 22 2018
Level 2
August 25 and 26 2018
Fall 2018
Level 1
Sept 22 and 23 2018
Level 2
October 13 and 14 2018


To be held at ViVi Therapy 1976 Oak Bay Ave, Victoria, BC V8R 1E2.
See our workshop schedule here.
In these Feldenkrais workshops, you will learn to inspire your proactive clients to self awareness based on some of the fundamental teachings of the Feldenkrais Method.  The Feldenkrais Method which has been around longer than Pilates but is far less ubiquitous, focuses on whole body awareness and movement from the core to establish and improve stability, balance, muscle memory, and ease of movement. Feldenkrais teaches individuals to include and differentiate parts of their skeletal structure and breathing anatomy consciously when moving.  This continuing education teaches RMTs how to move better themselves in order to inspire and guide improved function in their clients. Your patients of all ages and ability will benefit from the teachings in this workshop from athletes to seniors.
Guild Certified Feldenkrais Practitioner (grad Montreal 1996) Roxanne Derkson feels that after 2 + decades of practicing and teaching Feldenkrais both Functional Integration (individual lessons) and Awareness Through Movement (group lessons), the method still remains poorly understood by many practitioners. As a result, she has developed this unique series of workshops based on Feldenkrais Method principals to offer a more comprehensive understanding of how to integrate movement assessments and evaluations into a RMT or any other professional hands on practice.  Massage therapists will learn how to follow up their assessments with functional hands on manipulations and guidance that lead clients to a greater understanding of their dysfunctional movement habits or patterns contributing to their need for relief from chronic symptoms and pain. 
Learning how to apply specific, calibrated skeletal forces to convey information that is unique to the Feldenkrais Method of functional integration will be introduced. 
Neuroplasticity is the bodywork buzz word today and the Feldenkrais Method hit the world stage in this domain since the publication of  Norman Doidge M.D.'s books "The Brain that Changes Itself "and "The  Brain that Heals Itself". The body mind connection has no greater method than Feldenkrais (in Roxanne's opinion) and the founder Dr. Moshe Feldenkrais was a pioneer ahead of his time.
These Feldenkrais workshops are for RMT's and other hands-on Practitioners
What you will learn in Functional Fundamentals (based on the Feldenkrais Method of Somatic Education):
Level 1
Introduction to Functional Fundamentals ( 4  hours of practical learning)
Learn how to change your assessment skills in the clinical setting from range of motion dysfunction and postural assessments to dynamic assessments.  Dynamic assessments, that reveal a clearer understanding of the bodies diagonal, linear and rotational relationships, movement patterns and motor control including evaluating issues that lead to repetitive injury, accidents, poor balance and chronic pain. Help your clients move beyond musculoskeletal symptoms that lead to osteoarthritis and other degenerative disease processes.  Learn a new way of thinking about and observing your patients from when they enter your waiting room until the time they leave post tx.  Become their movement coach and grow your capacity to facilitate their change with a human and compassionate focus. Learn to use your initial assessments and final evaluations at the end of a treatment to highlight improvements and therefore keep your clients progress highlighted and focused on function.
Functional Fundamentals for Head, Neck, Eyes and Thorax (10 hours of practical learning)
This Feldenkrais workshop will combine lecture and movement lessons (Awareness Through Movement) that you will learn and can teach your patients (while on your table), as well as hands-on practical work that you can integrate into your treatment protocols in order to facilitate change in chronic pain, poor posture, repetitive strain in the shoulders, elbows, hands and wrists. This workshop is taught in a format that is common to Feldenkrais Practitioners – one that uses self-awareness to teach others the same.  The hands-on techniques have been developed with a new style of palpation and connection with the musculoskeletal system that focuses on efficient skeletal motion to improve function and movement.  We will work on concepts like reaching, turning, bending and how the junction of the C7 and T1 is a key element to better motion in the entire spine and how it connects with the head. Thoracic outlet syndrome, carpal tunnel, headaches, cervical osteoarthritis, rotator cuff and adhesive capsulitis type shoulder symptoms can all benefit from the content taught in this workshop.
Level 2
Functional Fundamentals for the Pelvic Girdle, Lower Thoracic and Lower Extremities (14 hours of practical Learning) –
This 2 day workshop will combine lecture, movement lessons (awareness through movement) that you will learn and can teach your patients (while on your table) as well as hands on practical work that you can integrate into your treatment protocols. We all have compliant and non compliant patients.  You can use these techniques to transition less compliant patients to better functioning and introduce self awareness as a process of feeling better.
The pelvis acts as the gateway to spinal and head motion, how we can use this to help our clients is the theme of this workshop. In a world of over sitting knowing how to move from the pelvis while it is seated is a key element to treating postural related problems. We will focus on how spinal curves and segments are effected by motion of the pelvis through the lower extremities and breathing.  We will use classic Feldenkrais  (awareness through movement) lessons for the pelvis as a starting point for learning and exploration.  Students can discover a better functioning pelvis leads to better head and upper body support, less sacroiliac joint dysfunction, help for chronic lumbar spondylolisthesis or retro vertebral segments, osteoarthritis and disc degeneration from poor pelvic stability, long term over use, injury and poor movement habits. We will explore the linear and diagonal relationships in the body that connect the pelvis to the shoulder girdle and head.  Although this workshop does not focus exclusively on walking and running the content can be used to enhance performance for those individuals with knee, ankle and hip problems.  After a Feldenkrais lesson people most often describe their experience as feeling taller, longer, grounded and  lighter to name the common adjectives.  The reason they say this is most people do not usually feel this way before the lesson. We can help our clients by giving them movement routines rather than stretches to facilitate neuroplasticity and better function.
If you have any questions regarding the content in these workshops please contact Roxanne Derkson RMT GCFP directly at info@vivitherapy.com
NB. Roxanne Derkson with respect to the method wants all potential students of these workshops to understand the Feldenkrais Method is governed by strict service marks and these workshops are not a substitute for becoming a Feldenkrais Practitioner (4 year training program 800 hours) or using the name in promotional material prior to becoming a fully trained and certified practitioner.  However, one can develop a new way of treating clients that allows your practice to develop in a new and very interesting direction.

If you have any questions regarding the content in these workshops please contact Roxanne Derkson RMT GCFP directly at info@vivitherapy.com
About Roxanne Derkson RMT GCFP
Roxanne Derkson is a Registered Massage Therapist, Craniosacral Therapist and Guild Certified Feldenkrais Practitioner.
She graduated from the original Canadian College of Massage and Hydrotherapy in 1988, became a Guild Certified Feldenkrais Practitioner in 1996 and studied Craniosacral Therapy & Visceral Manipulation with Upledger Institute from 1980's to 2005.  During this time she built 4 private practices/clinics, one in her birth place in Manitoba, two in Australia and her current Massage and Acupuncture Clinic called ViVi THERAPY in Victoria BC.  Roxanne has been registered in Ontario and BC for many years and now calls Victoria home since 2006.  ViVi Therapy Clinic and Store is where she practices and is the owner of Vancouver Islands only massage supply store selling ViVi Therapy branded massage equipment and supplies.   
Teaching Experience
Roxanne's teaching history includes instructor of advanced treatments at the Massage Therapy College of Manitoba, founder of Clinical Therapeutic Services in Brisbane, Australia offering continuing education for Massage Therapists and assistant teaching for CST1 and CST11 in the 90's for the Upledger Institute.  While living overseas Roxanne focused her private practice on the Feldenkrais Method. In her current practice Roxanne has found a unique way of integrating Functional Movement Principles into her Registered Massage Therapy practice.  Through a process of observation and palpation one can detect and define motion in and through the body.  These workshops have developed in my practice over a very long time as I have trialed and created some fun ways of helping people be more aware of their habitual movement. Learning how and where they get support leads to an improved relationship with gravity over time.  This helps myofascial release and cranio/osteopathic techniques last longer and in many cases the problem dissipates and or goes away.  Roxanne teaches Awareness Through Movement classes/workshops and Functional Integration in her practice in Victoria, BC.
This course and its instructor meet the criteria requirements for 1 CEU credit for every 2 hours of instruction as set out in schedule A

This course has been approved by CMTBC for 14 PE/A2 CEC's per level.
Register for Level 1 by purchasing in our online store here. Register for Level 2 by purchasing in our online store here.
Save
Save
Save
Save
Save
Save
Save
Save
Save
Save
Save
Save
Save
Save
Save
Save
Save
Save
Save
Save
Save
Save
Save
Save
Save